Under the background of vigorously promoting the supply-side structural reform in China, "New Retail" was born into a new bright spot. Two sessions in 2017, as the core content of the new retail "to promote the integration of physical store sales and online shopping development" was written in the government work report. In the current mobile internet era, data driven background, through the traditional commercial field of production and consumption of data transformation, optimize data, improve efficiency, with technology innovation business model to create new value, has become a very obvious trend.
Market challenges and opportunities
New competitors, new formats, new technologies and rapid changes in customer demand have brought the retail enterprises and brand businesses great challenges, but also the rare opportunity. The digital operation ability and operation mode of the enterprise will face the more severe test of the market.
Squeezed profit margins
With the rapid rise of real estate, labor logistics, financing, utilities and other costs, offline retail stores renewal and opening new stores are facing more and more severe cost pressure. In addition, the internet brings highly symmetric and transparent information, but also squeeze the traditional retail industry profit space.
Escalating customer needs
The rise of the new generation ( mainly after the pan - 90s ) has made the consumption demand changed dramatically. Traditional retail and e-commerce retail can no longer meet the new generation of consumer demand. The new generation of personalized consumption, diversified demand, sharing social characteristics, but also promote the rapid arrival of new retail formats.
Innovative retail formats
Distribution, direct sales, e - commerce, o2o, cross-industry joint, the emergence of new retail formats, increasing the difficulty and cost of enterprise management. How to quickly adapt to the innovation of all kinds of retail formats, and cooperate with the various formats and contacts, have an impact on the customer's entire journey. This will be a challenge that enterprises must face.
New technologies in constant use
Big data, artificial intelligence, internet of things and other new technologies are constantly being applied. These technologies will have a profound impact on the industry as a whole, but they are only a new term until companies truly understand and apply them. How to use new technology to provide customers with the ultimate experience, build competitive advantage, but also prevent the application of new technology competitors dimension reduction attacks. These are the questions that businesses need to answer.
Our Solution
Breakingpoint leading enterprises to build a new retail system,design full channel, full scene, lightweight, precise, and intelligent retail solutions
· Build all channel commerce platform—expand all community group platform for enterprise, To strengthen great mall online, stabilizing traditional offline channel. Compromises the online to offline product line and business line by all channel cloud structure.
· Big data—build cross system integrated data structure by group level, to make modularization and integration accurate big data. to provide data base timely and effective for the marketing activities when business fluctuates all the time.
· Full life cycle membership system—Multilevel and multilatitude data extraction for customer information. Integrating customer care promotion activities in a friendly interactive way into the life of the members, push more accurate and acceptable marketing activities, do great increase in membership and activity.
· Transparent customer interaction experience—The whole channel transformation integrates the data flow from customer consultation, consumption to receipt, and after sale business process, and realizes the whole process and transparent customer interaction service through cloud sharing the front-end and social application of the mall.
· Opening logistics cloud platform—Realize multi system business flow, open cloud service architecture, not only for large logistics companies, small community logistics, can quickly access the service through an open cloud platform.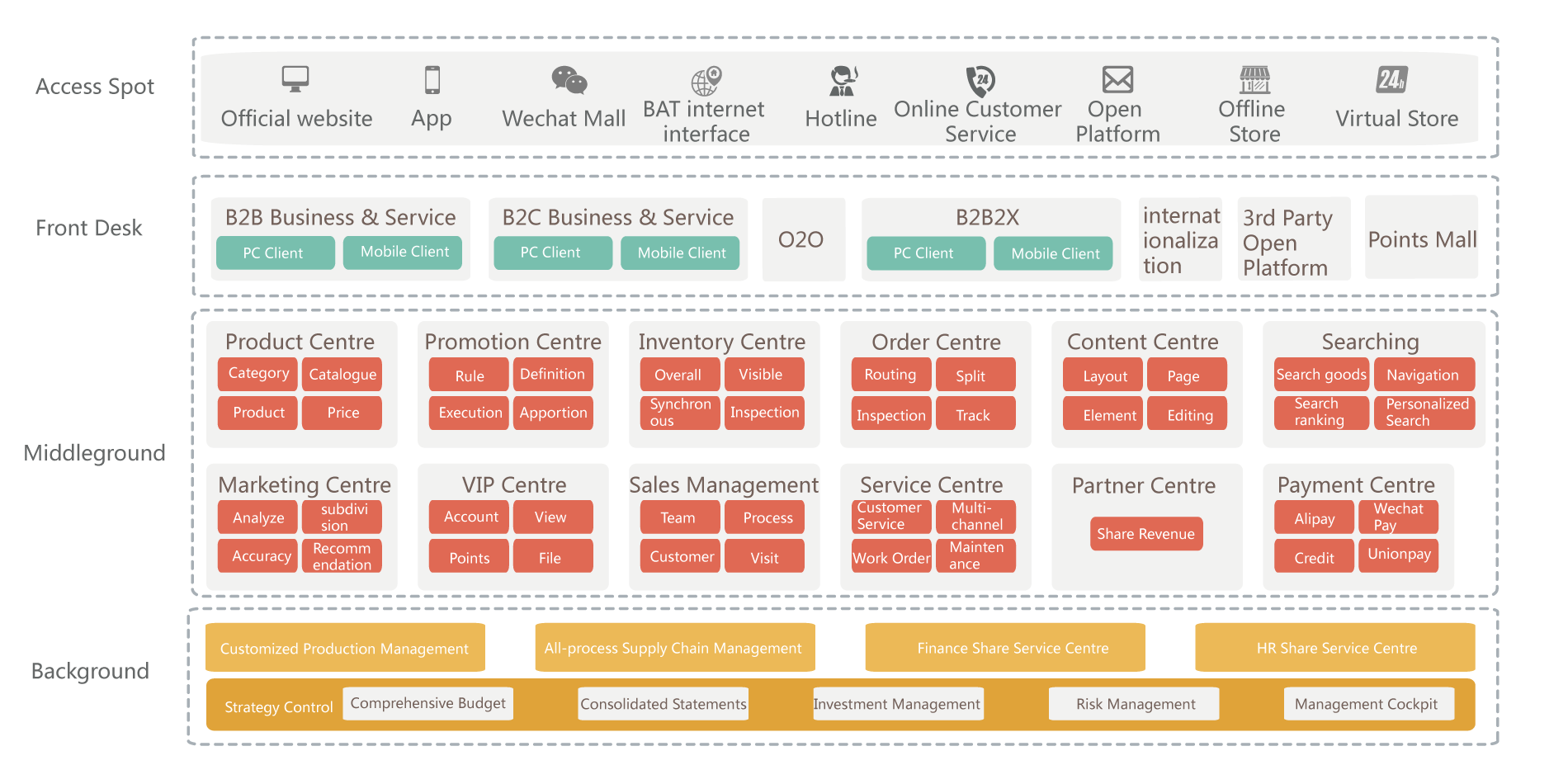 The Value for Our Client
Breakingpoint help customers compromises the integration of online and offline channels of business in the new retail form through the integration of application system,with its strong full channel system architecture, data model based on the overall precision of the new wave of surging retail environment.
· Flying business innovation
Reduce the burden of front-end business innovation and enable new business models to move faster and faster.
· Enabling market competition
Focus on customers and empower front-end businesses in intense market competition through accurate marketing based on big data, cross-channel customer lifecycle interactions, and other technical means. Make it really have a competitive advantage and get more value.
· Simplified back-end support
Simplify standardized back-end business, such as manufacturing, supply chain and other links in support of flexible business front-end pressure to control costs.