During the last few years, the growth of auto market in China slowed down. Since 2015, the conflicts between auto production and sales have became very significant, as well as the law and regulation change, resulting in fierce competition in the auto market.
On the other hand, the development of internet has been reshaping the auto market. In the future, Telemax and AI will trigger a revolution, the auto manufacturing technology and information technology will be further integrated. It will be the time for auto dealers to seize the opportunity, and develop their unique competitive strength.
Industry Pain Point
Impact of New Retail
The integration of consumer market and internet technology has been changing the consumer behaviors. Dealer stores are no longer the only option for customers to purchase cars or services. New Retail has brought convenient, customized experience to the customers, while it has also brought challenges for the auto industry. Until now, the business results of current innovations in auto retail channel sector remains unclear.
The game between automaker's direct channel and dealers
As the margin in auto sales drops, auto makers start to build their direct channel, at the same time, push more stocks to downstream, apply strict, or even unfair incentive policies to dealers based on their dominant position in the market. On the dealer side, it means over-stock, loss in auto sales, resulting significant challenges to cash flow and overall business performance.
Aided by government policies, auto dealer seems can recover the profit loss in traditional cars through EV sales. However, because of the difference in parts structure and technology, it will be difficult for the EV to generate as much revenue as the traditional new car sales + aftersales service + car finance profit model. Therefore, more and more automakers are trying to build their own direct channel, instead of traditional franchised dealer model.
New Industry Formats
The traffic jam problem in big cities is actually not because of the large number of cars we have, but the lack of available cars when we need. Shared cars will significantly improve the utilization of cars. If shared car would combined with auto-drive technology one day, the biggest problem of pick-up and return cars would be solved easily. The Cars will automatically find the passengers and parking lot, instead of the passengers try to find the cars. It is predicted that the number of cars will decrease.
Penetration of passenger vehicles in China
Auto market develops in circles like all other markets, with the relatively high penetration of passenger vehicles in China, a down turn is expected. Automakers and dealers without competitive strength are likely to be knocked-out during the down turn.
Our solution
Our total strategic transformation solution consists of organization design, process reengineering and system implementation, as well as change management services, enabling auto dealers to realize their strategy towards own brand, full operation management and finally, ready for a true transportation service provider.
1. Define corporate transformation strategy, plan transformation road-map.
2. Define corporate transformation strategy, plan transformation road-map.
3. Enabled by latest CRM and big data technology, achieve targeted marketing, improve cross-channel customer life cycle experience, capture full lifecycle customer value.
4. Reshape corporate level purchasing, inventory management and cash management, enable group enterprises actually achieve scale of economy.
5. Implement corporate level overall budget management and performance management, improve capabilities in cooperate governance and agile operation.
6. Enabled by a centralized data management platform, help clients in their digital transformation.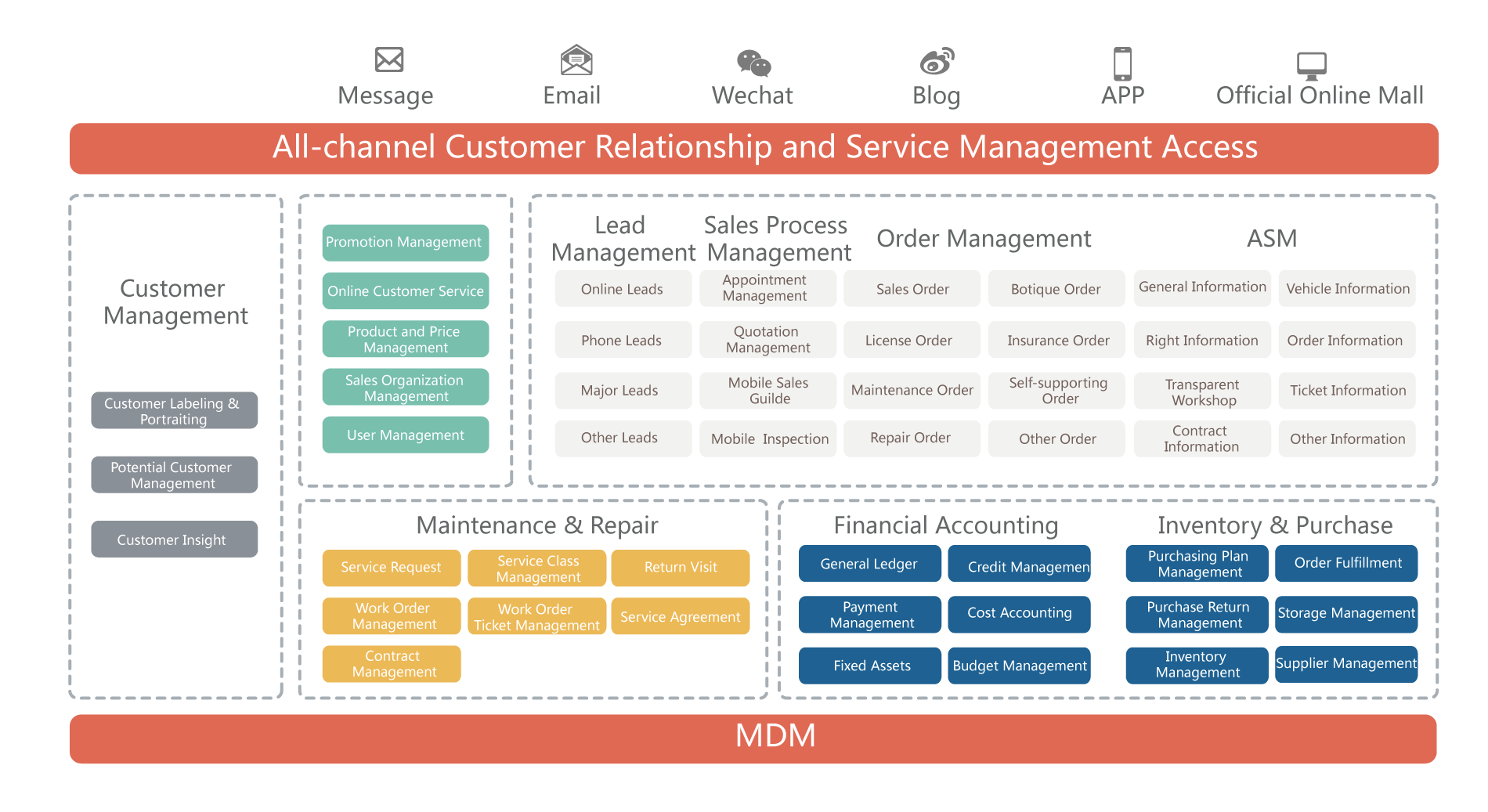 The Value for Our Client
We help auto dealers in improving operation management capabilities, transform themselves from car sales to full lifecycle customer service, from automaker's brand stores to build their own brand and finally, from auto dealers to transportation service providers.
1. Help auto dealer groups regain control of their own business operation.
2. Support auto dealer groups' investment in related business domains, improve dealer groups 'strategic risk management capabilities.
3. Transform to New Retail, adapt to business model changes.