In May 2015,was published, as one of the growth engines to the next generation manufacturing in China, the word "Automobile" is mentioned more than 10 times in this book. Auto manufacturing is regarded by the Chinese government as key to the economy.
While in this age of internet, changes happen anywhere and anytime, Auto industry makes no exception. In 2016, shared economy made the transportation sector quake, DIDI and Mobile have already made themselves the benchmarks. Government policy and regulation changes also demonstrated how much impact shared economy can have to the transportation sector and the society. Green energy, smart vehicles, EV are the latest trends in the automobile industry, many investors and entrepreneurs took part in these trends and progresses are being made by them. Auto-driving is the hottest topic in this industry, although we don't know the exact time for this technology to go really commercial, people are keeping talking about it as a great vision.
Smart manufacturing + Internet is about to unleash mega changes in the Auto industry.
Challenges for automakers
Tradition technology barrier is about to collapse
EV has made lots of traditional automakers' technology reserves valueless, the market competition has changed significantly, new players, like Tesla and NIO may take the lead.
Technology is changing the business model
As auto-driving technology matures, people start to understand what they need is not automobiles, but transportation service. Automakers will be able to transform themselves into direct frontend operations instead of a backend manufacturer, so as to realize full life cycle customer operation. However, most of the automakers are not ready in terms of mind and capability.
Change of customer behavior
Shared economy has improved the utilization of passenger vehicles, which leads to significant drop in car sales and car parc. Automakers will be one of transportation service providers and individual car owners are no longer the only customers for sales and service, which requires Automakers to improve their abilities in cost control and product development.
Change of channel structure
New Retail, enabled by internet technologies, gives Automakers the convenience to contact customer, complete transaction and provide service. However, most of Automakers don't have the abilities for direct service, instead, traditional dealers/ 4S stores are used to serve customers. Dealers holds a key stake in Automakers' sales. This structure is an eco system and has worked for many years, it won't vanish in a second; On the other hand, the nature of internet requires transparency in information and excellence in customer experience, customers are not willing to pay for the high cost behind this automaker / dealer structure.
Our Solution
The new 5S operation model
· Sales: Realize New Retail for experiential sales
· Service: Implement O2O model for more convenient and transparent service
· Spare Part: Based on Telematics platform and cross channel marketing, capture full customer lifecycle values for spare parts and value added products (eg. financial products)
· Survey: Based on social network and big data analytic platform, improve real-time customer interaction and communication
· Solution for mobility: Based on IoT technology and e-business platform, provide all-in-one solution for mobility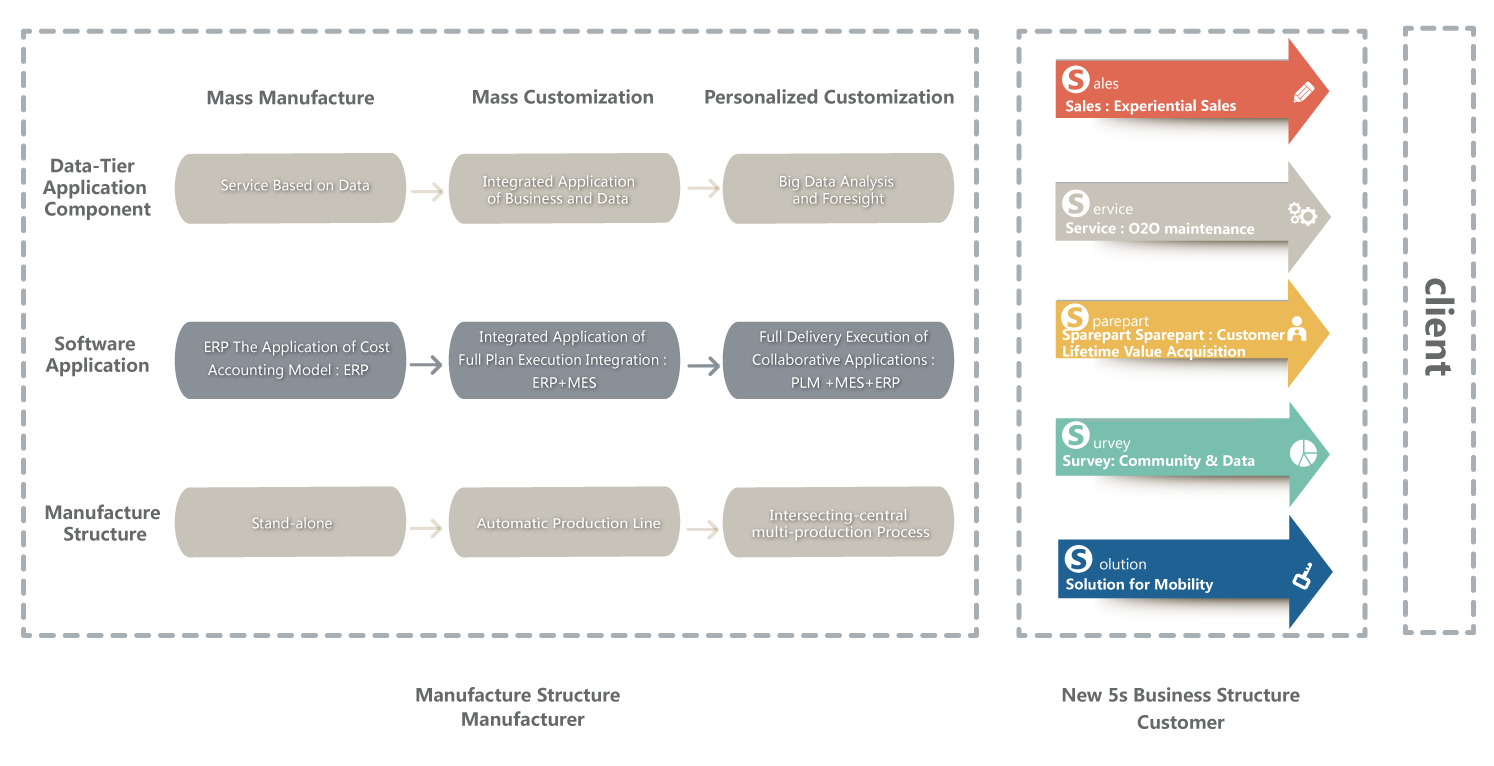 The Value for Our Client
Breakingpoint helps Automakers build new 5S operation model by making full use of internet technologies and tools, so they will be able to directly reach end customers in the near future.
Based on industry 4.0, Telematics and Cloud platforms, we help Automakers in building a customer centric ecosystem, achieving smart management based on big data and realizing large scale product/service customization based on flexible manufacturing (smart product, smart factory and manufacturing) and C2M model, so as to help Automakers transform into all-in-one transportation service provider from auto manufacturer and developer.